MS SQL Recovery Tool to Repair Corrupt SQL Database
MS SQL Database Recovery tool is a powerful and most recommended tool to recover data from corrupt MDF database from MS SQL Server. It is effective & perfect solution for damaged MS SQL Server database recovery and can be used as free mdf file reader tool. SQL recovery tool firstly scans & examines corrupt or damaged MDF file, then all the information that can be recovered using SQL Database Recovery is previewed on screen. Using SQL Database Repair tool users, can recover deleted records from corrupt MDF file and can save them in a separate SQL script file.
SQL Recovery Software Useful Features

Recover All SQL database
It recovers lost data, tables, views, stored procedures, rules, defaults, user defined data types and triggers from corrupt MDF database with SQL MDF recovery software.

Recover MDF and NDF files
SQL database restore tool restores & extract SQL data from corrupt SQL databases. It is a tremendous MDF File and NDF file recovery tool to repair and recover data of SQL Server database.

Deleted Data Recovery
Intently recovers data, tables, views, stored procedures, rules, user defined data types, triggers, indexes & constraints. Allow to recover SQL table's data which is deleted accidently or unwittingly.

Export SQL 2014 Database
Helps users to recover information from corrupt or damaged MDF databases of MS SQL Server 2000, 2005, 2008, 2012 & SQL 2014 and also export it into these version.

In-built database Viewer
SQL recovery tool allows users to preview all information such as System Tables and User Tables, Stored Procedures of corrupt MDF file.

SQL script for Export & Save
Software creates script file and restore all the information from corrupt MDF file to script file which can further be exported to SQL Server easily.

Dual Scan Modes
SQL recovery tool provide Advance (for high damage) and Quick Scan modes for scanning.Also save the scanning time by saving scanned file as .str; if scan process closed in between file can be used to restart the process.

Support windows 64 bit OS
Software successfully runs on Windows 98/ME/2000/2003/XP/Vista/7 & Windows 8. Both 32 bit and 64 bit Version are supported by the recovery software.

XML data type Support
Recover SQL database in an instant way with the help of SQL Server database recovery software. Extract database information from corrupt MDF file and allows the recovery of XML data also.

User Defined Schema Support
The database tables supporting user defined schema are also being supported and being recovered as well as exported by the tool.
Why We Need SQL Database Recovery Tool?
Sometimes MDF file fails to open and while trying to open MS SQL database (MDF file), you may get following error messages:
"Error 823: I/O error (torn page) detected during read at offset 0x00000027dc2000 in file."
"Server can't find the requested database table"
"Index '%ls' on '%ls' in database '%ls' may be corrupt because of expression evaluation changes in this release. Drop and re-create the index"
"The process could not execute 'sp_replcmds' on Server"
"The file *.mdf is missing and needs to restore"
Try SQL Repair software and get all your information from corrupt MDF file.
Download & Try It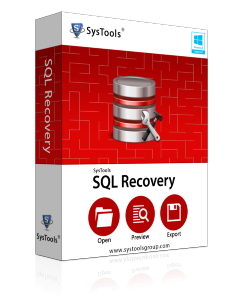 Things you will need to recover & repair corrupt MDF file using MS SQL Repair Software.
MS SQL Server MDF Database. (SQL Server 2014, 2012, 2008, 2005 & 2000)
Download now Demo Version of SQL Database Recovery for FREE!
NOTE :- To recover & save all information from corrupt MDF files of SQL Server 2000, 2005, 2008, 2012 & 2014 database, purchase full licensed version of the this tool.
System Requirements
Processor: 1GHZ processor (2.4 GHZ is recommended)
RAM: 512MB of RAM (1 GB recommended)
Disk Space: 10 MB of free hard disk space
SQL Server Version: SQL Server 2014,2012,2008,2005 & 2000
Windows OS Versions: Window 8.1 and all below versions
Application Pre-Basics
Using Window 8.1/8/7 or Vista, then please launch the tool as "Run as Administrator".
Watch The Video of This Tool
Testimonials

The package of SQL Server products has made the Database administration tasks much easier. Now all the Server related issues get resolved within few clicks. Whether it is MDF\ NDF corruption, data loss, accidental deletion, backup concerns, logs transaction file issues, the SQL Server Recovery Manager is a compact solution for all DB troubles."
-Claire Darryl, Malaysia

The response to my ticket was rapid and appreciable. Thanks for the rapid resolution."
Emil Kobina, IT Manager, Lashibi

Coolest support I ever chat with :)x
Lukasz Kisielewski, Poland

I enjoyed chatting for quick response. No time.. That's great
Nasir Abbas