Quickly Recover Deleted Data From SQL Log File

It is preferred to recover deleted data from SQL Server transaction log file using SQL log analyzer tool.

The SQL log file reader analyzes log file (.ldf) transactions and automatically detects the associated MDF files that are corrupted. This avoids the scanning of entire MDF files in the database which would otherwise take more time. The recovery process speeds up because of the following characteristics of log files:
Small Sized Log Files – The SQL Server LDF files are very small in size as it does not contain primary data but only consists of transaction information. Therefore SQL log reader tool quickly detects corrupted LDF file and its associated damaged MDF files.
LDF Transactions – Observing LDF activity such as Transaction, Time, Table Name, Transaction Name and Query makes analyzing process easy and rapid, which in return makes SQL recovery process quick.
LDF Log Activity - log file transactions like INSERT, DELETE, UPDATE, CREATE etc. play a big role in analyzing and recognizing spoilt log files speedily. Reciprocally, SQL transaction log viewer helps in tracking the transaction log activities of a database.
Recover Deleted Data In Simple Recovery Mode - The SQL log Analyzer tool built with such features that it can recover accidentally deleted data from a table in SQL Server database if the database is in Simple recovery mode or if you don't have any recent backup of your transaction logs.
Download SQL Server Transaction Log Reader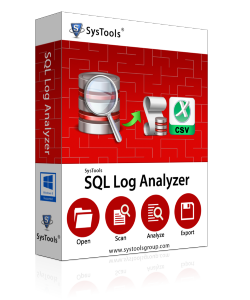 Size: 6.1 MB
Version 3.0
Demo version allows to preview and analyze the SQL Server log file as well as preview only first 5 tables and per table user can preview first 50 records.
Download Demo Version for FREE!
NOTE :- To export & save must purchase the licensed version.

Watch How to Read SQL Transaction Logs

Screenshots of SQL Log Viewer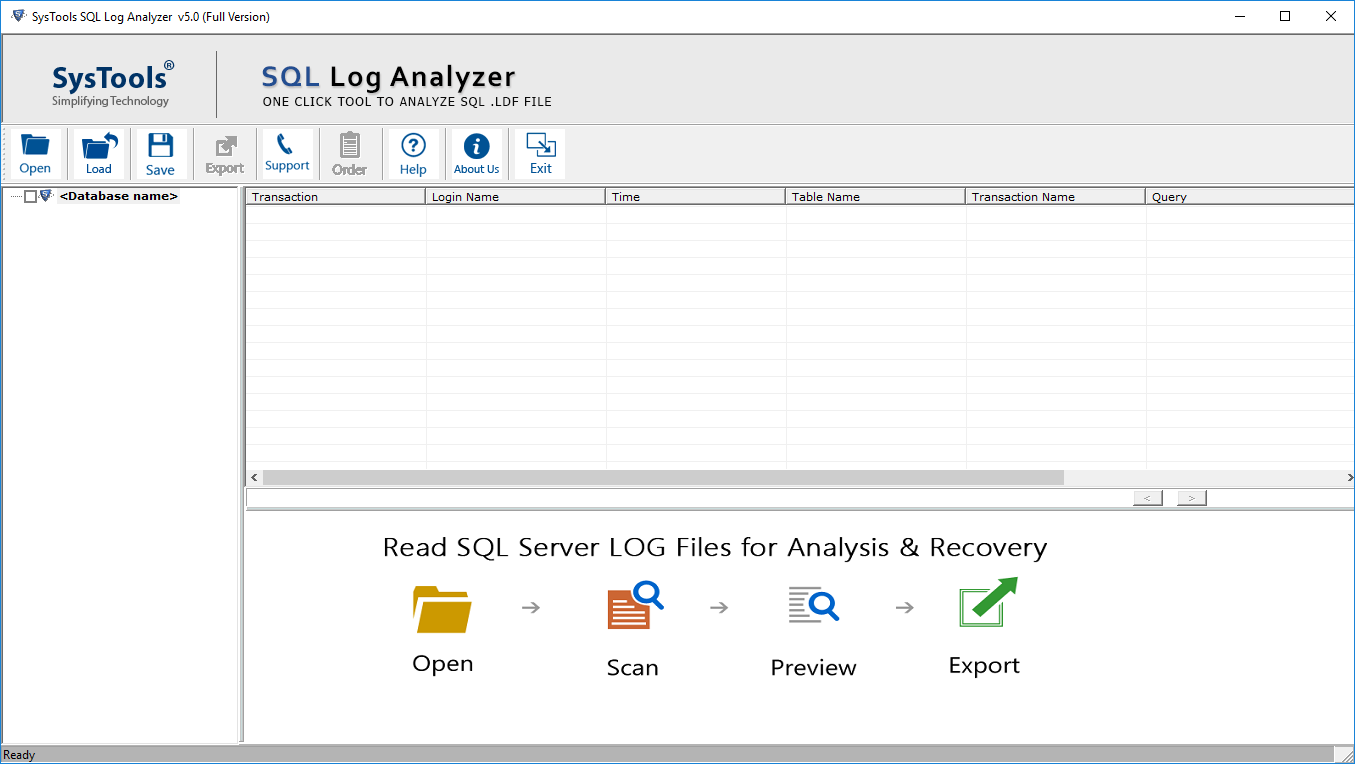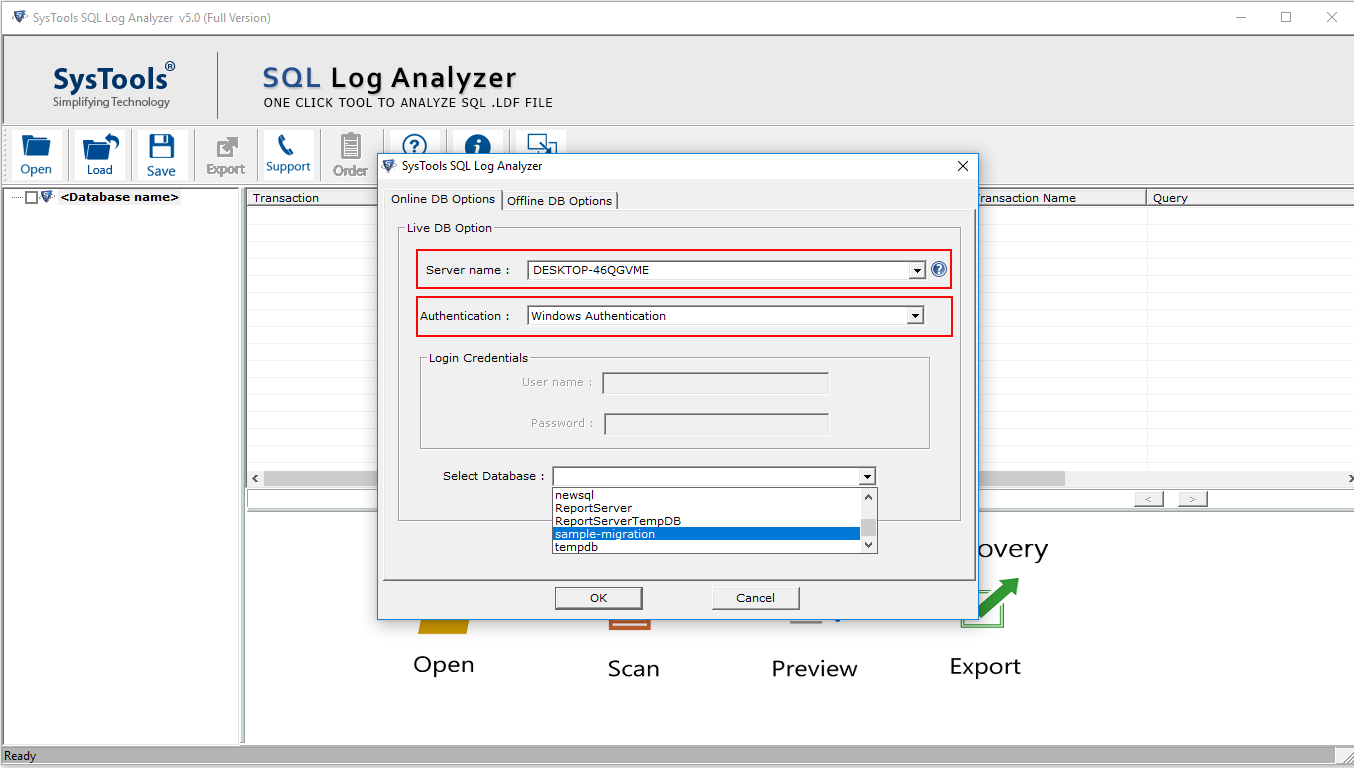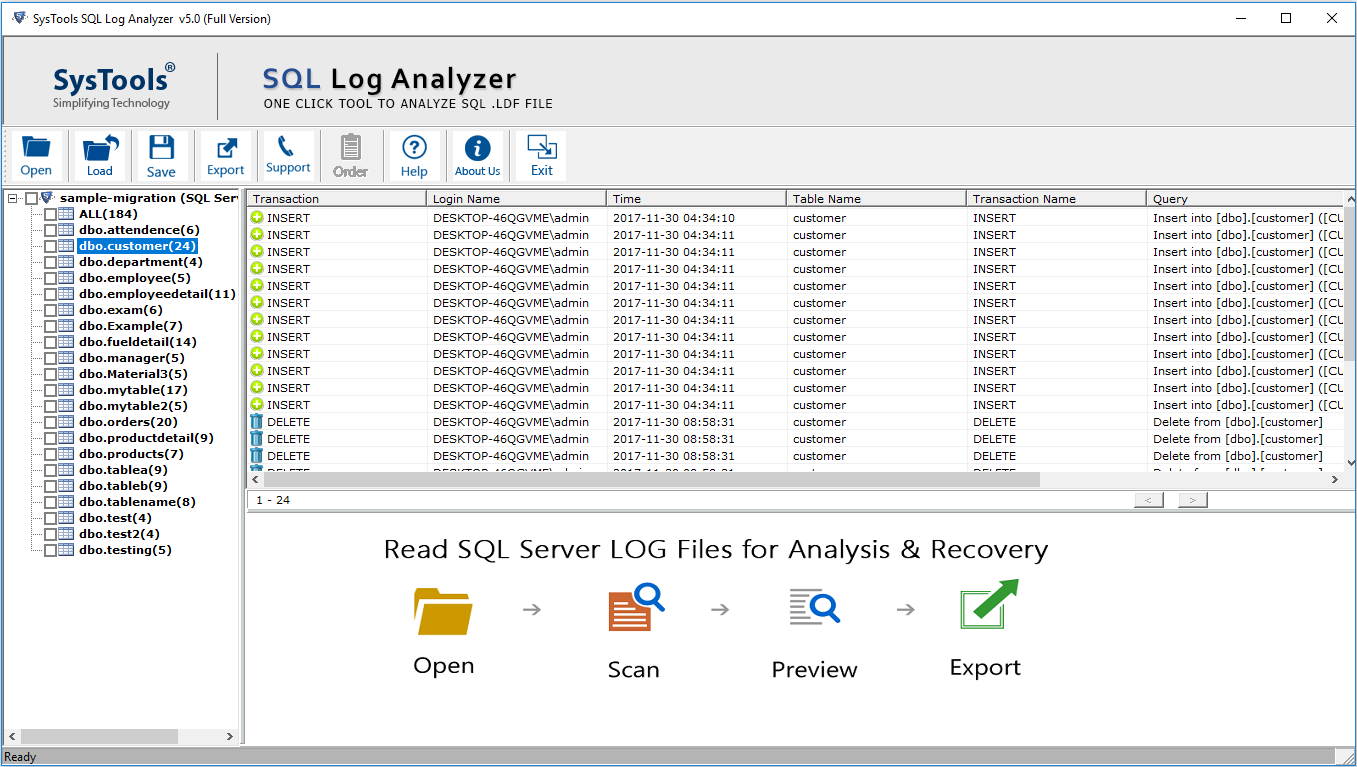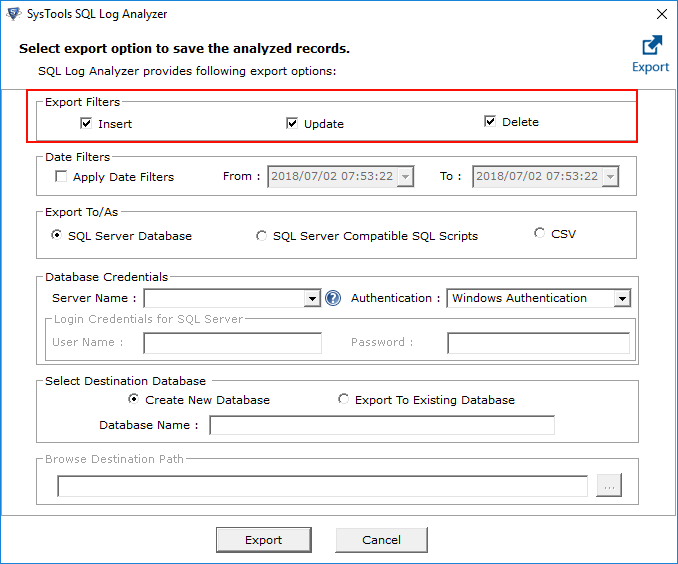 Frequently Asked Questions
Does this SQL log analyzer able to view deleted records?
Yes, The SQL Server log file viewer is capable of reading all the records (Insert, update & Delete) performed in a database.
Can I read SQL log file of SQL Server version 2016?
Yes The SQL transaction log reader is capable to open SQL log file of version 2016, 2014, 2012, 2008, and 2005.
Does the SQL log file reader required to have .mdf file to view SQL transaction logs?
Yes, To view SQL log file transactions, the associated .mdf file is required to process the .ldf file.
Can I read SQL Server transaction log file with this SQL log analyzer tool without having SQL Server environment?
Yes, the SQL transaction log viewer is able to analyze SQL Server transaction log without having SQL Server environment.
Is It Possible to recover mistakenly deleted records from SQL database table?
Yes, Software can easily recover deleted data from transaction log file in SQL Server if the database is in Simple recovery mode.
Can I track the users who have deleted records from my table in SQL Server?
Yes, SQL transaction log viewer is capble to track the users who perform certain transactional activities in SQL database table.