How to Recover SA Password in Case Of A Disabled SA Password

It is preferred to recover lost SQL Server password using SQL password reset tool. Learn How!

There have been cases observed where the SA password gets disabled which is a little trickier situation to overcome; however, for those who have been caught up in the respective cases, follow the mentioned steps:
As an individual user; start up Microsoft SQL Server using the –m flag through command line.
Run it as an Administrator.
When on the Roles page of Server, choose sysadmin and reset Admin password SQL accordingly.
Other methods of resetting SA password in different scenarios is; via using an SQL Server query based command which requires technical know how from the end user for understanding the query and implementing it in a right way then, following rest of the procedure to reset password.
However, one more method that helps to reset SQL Server SA password is executed via SQL Server Management Console. But the only chief requirement for a successful processing of this method is that the old password must be known to the user to change and reset it to new.
Meanwhile, if your requirement is not resetting SQL Server Admin password but to recover lost SQL Server password then, it is certainly not possible to be carried out manually. Hence, users who have lost/forgotten their SQL SA i.e. System Administrator password cannot get a solution following these ways.
SQL Database Password Recovery
Using the recovery solution offered by our esteemed organization, one can easily overcome situations where they have lost access to their database simply because they no longer have their respective passwords. This solution additionally comes with a free of cost trial edition that offers users with the ability to reset Admin password SQL via recovery and let users preview the credentials of your Server.
Download SQL Password Recovery Tool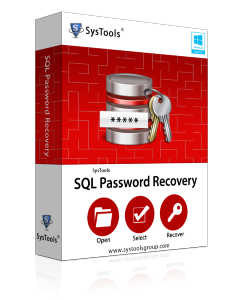 Size: 1.35 MB
Version: 1.0
The Demo Version gives only the preview of User name & Password Status
FREE! Version
NOTE :- To Reset password completly must purchase the license version of the Software..

Watch How to Reset SQL Database Password

Screenshots of SQL Password Recovery Software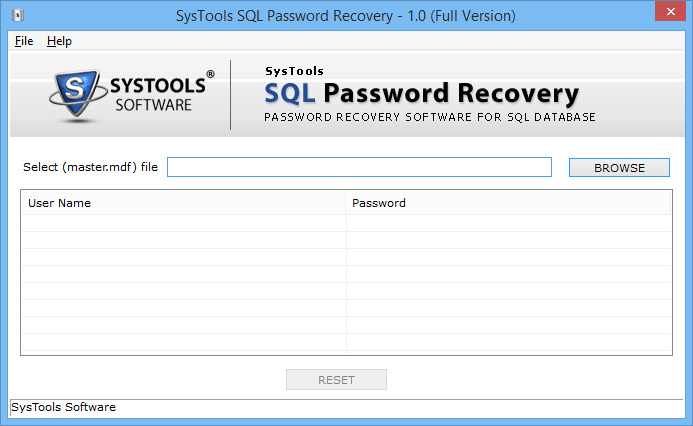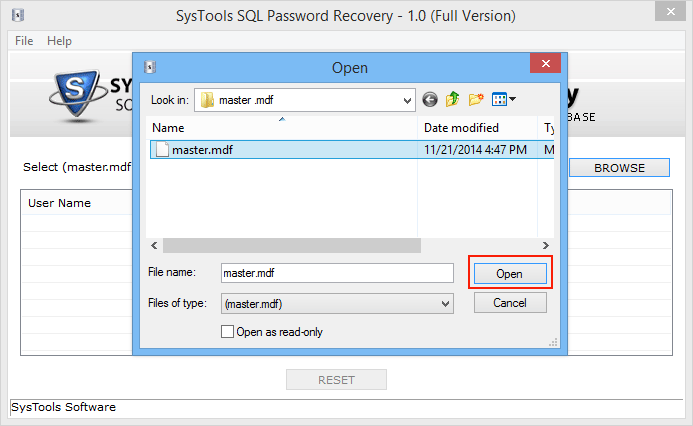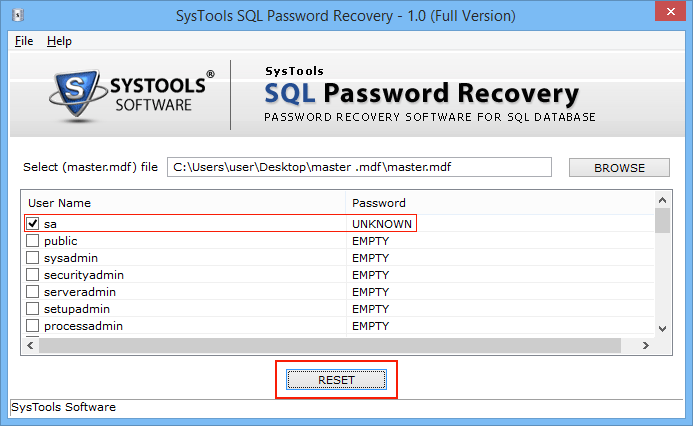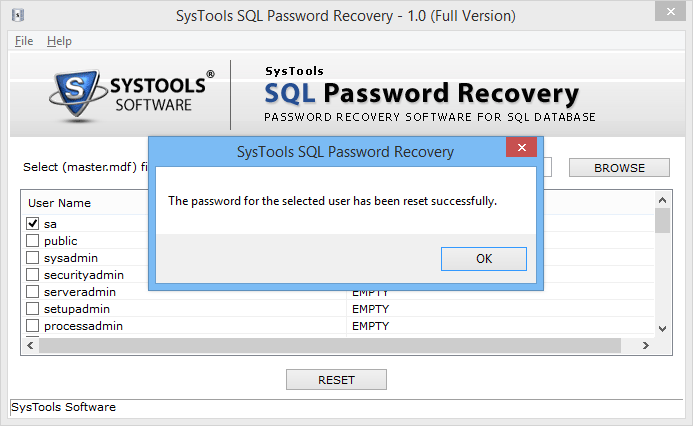 Frequently Asked Questions
Can I reset lost SA password of SQL Server 2008?
Yes, SQL SA password recovery tool can recover lost SA password of SQL Server 2000, 2005, 2008 & 2008R2.
Does this password recovery software require for having SQL Server environment?
Yes, to recover a lost SQL database password, software required for having SQL Server installed on your machine.
Can I use this password recovery utility on my Windows 8 system?
Yes, the software is able to reset SQL Server SA password on windows 8 system.
Do I need to take backup of my master.mdf file when using this SQL password recovery software?
Yes, It is recommended to make a copy of your master.mdf file As the software does changes in it.